An incredible £2437 raised during our charity pub quizzes
---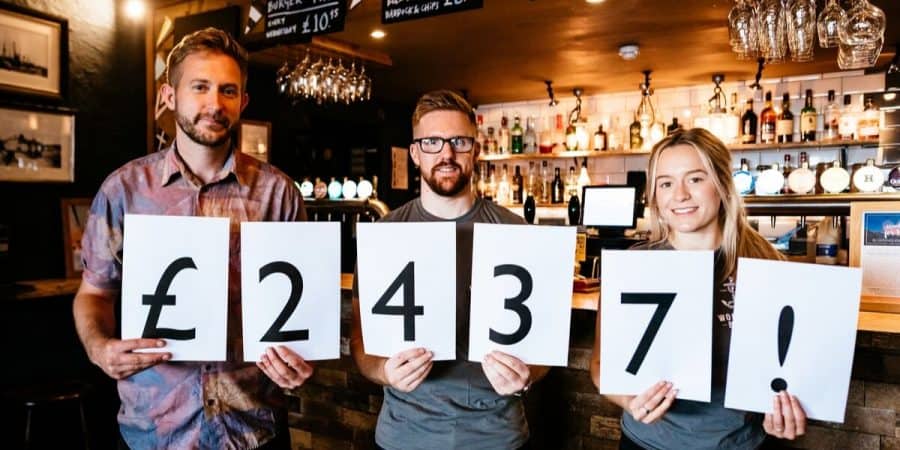 Here at The Working Boat, we find that charity fundraising is a fantastic part of the job. Our team want to give back to so many amazing causes throughout Cornwall and beyond. And what better way to do that than with our weekly pub quiz?
Pub Manager Ryan Martt explains: "Our pub quizzes are so popular that with just a small donation of £1 per person, it really does make a huge difference when it tallies up for the month. We couldn't do it without the incredible support of the quizzers!"
We're so incredibly proud to say that since January this year, we've raised a whopping £2437 with our charity fundraising in Cornwall.
Thanks to all our lovely quiz-goers that come every Sunday night to raise money with us – it couldn't be done without your amazing support! Check out how much we've raised for our chosen charities:
---
£264.56 Falmouth Community Football Club (January campaign)
£336.03 MQ Mental Health (February campaign)
£261.00 Parkinson's UK (March campaign)
£67.20 Fishermen's Mission (one off appeal during April)
£299.83 Surfers Against Sewage (April campaign)
£126.48 British Heart Foundation (one off appeal during May)
£246.62 Shelterbox (May campaign)
£678.34 Hospitality In Action (June and July)
£473.73 The Lily Foundation (August)
---
CHARITY FUNDRAISING IN CORNWALL
With so many more charities to go for 2019, let's make sure we double this total by Christmas! Our pub quizzes run every Sunday at 7:30pm, with plenty of prizes to be won, so come on down and let's get quizzing.