Head Chef Liam Humberstone's Vegan Burger Recipe
---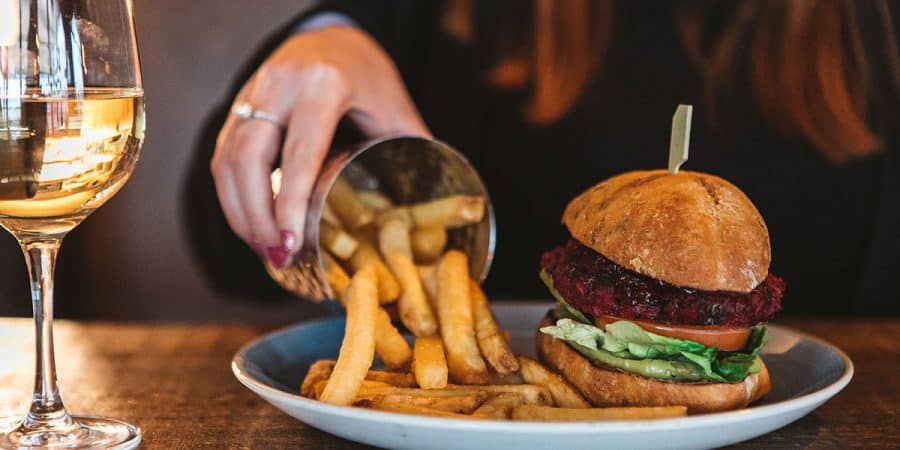 Vegan Burger Recipe
For those trying out Veganuary this month, or for those that have been dedicated vegans since they can remember, you're going to want to try this vegan burger recipe from The Working Boat.
Veganuary is a non-profit organisation that encourages people worldwide to try to be vegan for January and beyond. During the 2019 campaign, more than a quarter of a million people took the pledge to try a vegan diet! So how about it, will you try our delicious vegan burger recipe?
---
Ingredients
4kg sweet potato
4kg beetroot
Four red onions
One bulb of garlic
Two red chillis
Bunch of coriander
Four focaccia rolls
Eight slices of tomato
Baby gem lettuce
Chilli jam
Guacamole
---
Method
Heat the oven to 180°C fan.
Pierce the sweet potatoes a few times with a fork or skewer.
Rub each potato with 1 tsp of oil and some seasoning.
Cook them for 40-45 mins or until they are tender all the way through.
Once soft, push out the inner of the sweet potato out of its skin and place in a bowl.
Take the skin off the raw beetroot and grate into the sweet potato.
Finely chop the red onion, garlic and red chilli.
Add into the sweet potato and beetroot when cool, then add coriander and gluten free flour to firm up.
Create 200g shaped patties.
Place on a heated pan until the patties colour.
Place on a tray and pop in the oven for 12 minutes.
Serve on focaccia with baby gem, two slices of tomato, chilli jam and guacamole.
---
Finally, enjoy!