Our classic vegan burger recipe by Head Chef Liam
---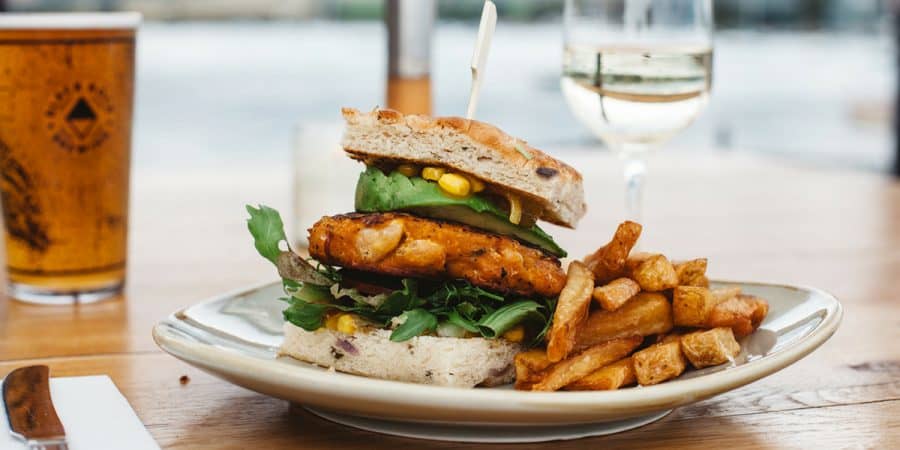 VEGAN BURGER RECIPES
Looking for vegan burger recipes? Ours really hits the nail on the head. Check out our Head Chef Liam's recipe for this tasty vegan alternative.
Ingredients
2 butternut squash, small dice
2 x 800g butter beans
1 medium red onion, fine dice
2 sticks of celery, fine diced
1 bulb of garlic, fine dice
2 tablespoons chopped basil
2 tablespoons chopped thyme
2 tablespoons chopped parsley
1 red chilli, finely chopped
50 ml olive oil
1 ½ tablespoons sea salt
1 ½ tablespoons cracked black pepper
½ tablespoons Cajun spice
8 heap tablespoons gram flour
Method
Blanch the squash until tender, sieve and cool, do not refresh.
Place the squash into a thick bottom saucepan and add the butter beans, dry the mix on the side of a low heat evaporating any excess water.
With a hand masher, break down the beans to create a thick mash.
Next, saute the remaining ingredients slowly, do not colour, just soften the vegetables.
Mix these ingredients together with the squash and beans.
Mix in the gram flour to finish the burger mix, check the seasoning to taste.
Mould into burger shapes.
Seal each burger in an oiled hot non-stick pan.
Cook to taste.
Allow to cool.
Finally, enjoy!
---
Join us at The Working Boat
Vegan burger recipes aren't the only dishes we can whip up at the pub. Check out our menu, with lots of vegan delights.