The Working Boat's Steak Focaccia Recipe
---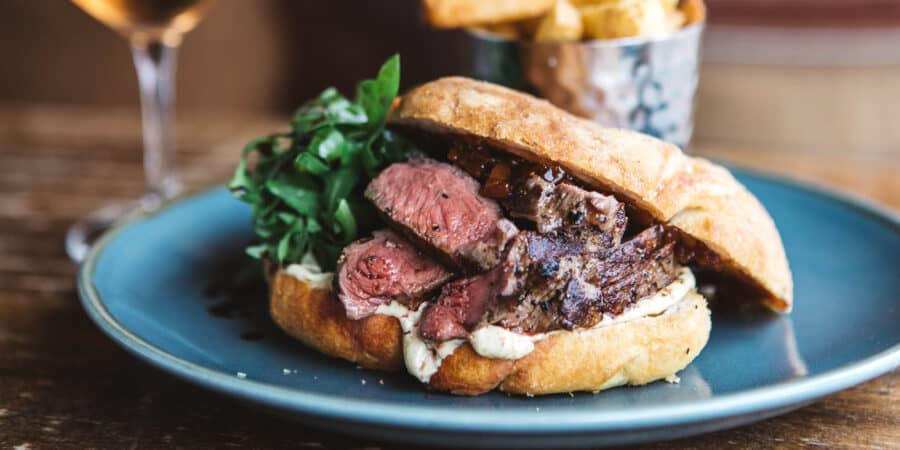 We're so excited that this summer The Working Boat chefs have brought back our best-selling steak focaccia! This long-time customer favourite has graced our menu for many years now and we're proud to share the recipe with you.
If you want to make a great impression when hosting friends, or are simply trying to get the whole family to agree on what's for dinner, we have the perfect recipe for you to try at home…
---
Ingredients (makes one)
One 170g beef steak (pavé or minute steak – rump or sirloin will also be great)
One individual focaccia roll
Blue cheese mayonnaise
Sliced red onion
Sliced tomato
Two slices of smoked bacon
Handful of rocket and baby gem lettuce
---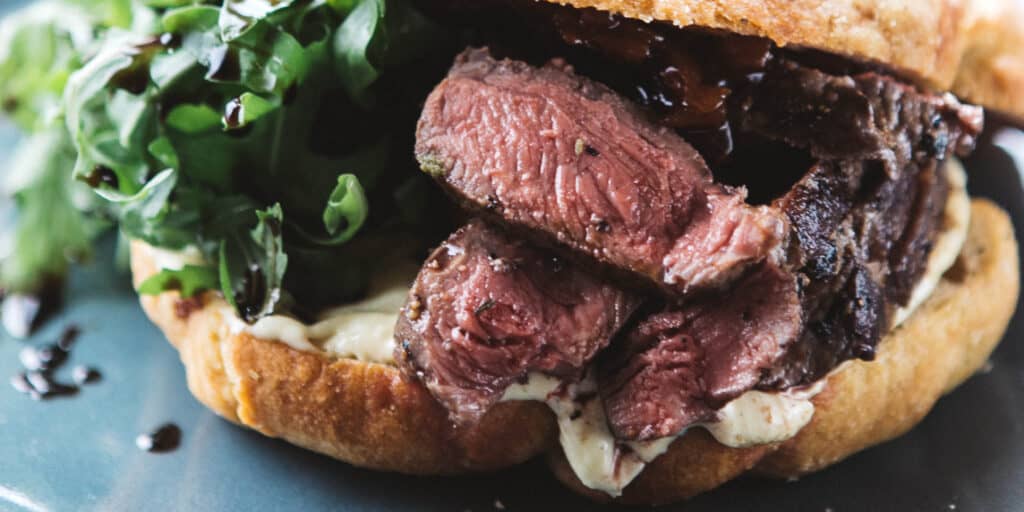 ---
Method
Preparation
The key with this 'sandwich' is getting all your ingredients together and ready before you start cooking
The steak: ask your butcher for a pavé or minute steak – you can also get these at your local supermarket. You will easily find rump or sirloin. If you decide on these, trim off any fat and place in a clear food bag or between cling film
Bat the steak gently until thin – this will reduce the cooking time by half
Season the steak well with sea salt and ground black pepper, then set aside
Prepare all your salad ingredients and set aside, making sure to wash everything before use
The blue cheese mayo
This is easy, but totally addictive! All you need is:
50g blue cheese (strong or mild depending on your taste)
100g mayonnaise
Squeeze of lemon juice
Chopped chives
Seasoning
To make, crumb the cheese and place in a small bowl
Pop in the microwave and cook for twenty seconds at a time. Remove, stir, repeat. When the cheese is soft and gooey, add a spoon of mayonnaise. Pop in microwave again and repeat once more
Remove and add the remaining ingredients and stir well creating a smooth mayonnaise. Set aside in a kilner jar or sealed container as this sauce will last in the fridge for another day
Making the sandwich
Heat a non-stick frying pan until hot
Cut the roll in half, and sear each side in the hot pan until toasted
Remove, lightly oil the steak, place carefully in the hot pan and then add the bacon
Cook the steak for one to two minutes on each side, then remove from the pan and allow to rest
Fill the roll with the prepared salad ingredients
After a few minutes, allowing the steak to rest, cut into even slices and lay on the salad in the roll
Add a generous dollop of blue cheese mayonnaise, close the roll, and serve
---
Recommendation from Executive Chef Nick Hodges:
"Choose a garlic sea salt and rosemary focaccia to compliment the steak and combine amazing flavours."
---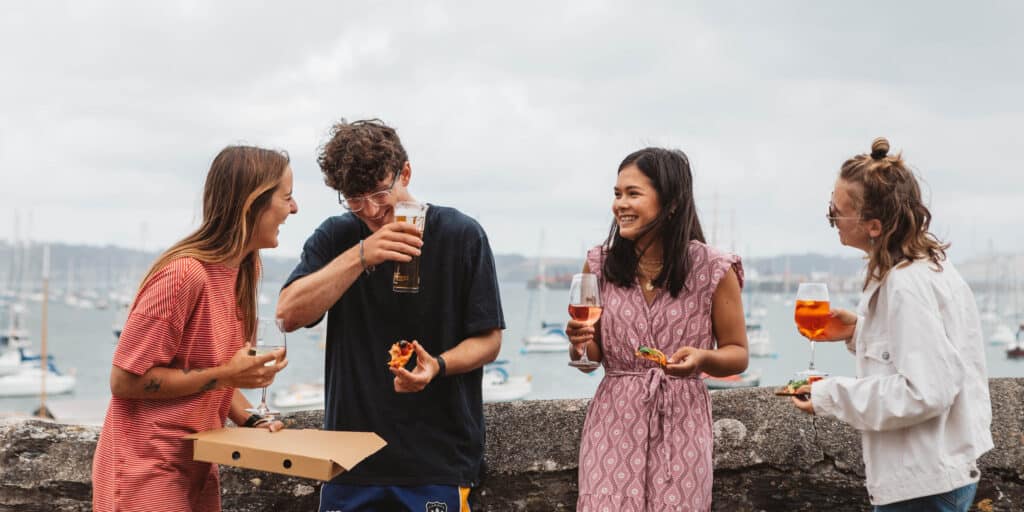 ---
Fancy giving our recipe a go?
Show us your creations by tagging us in your photos using @theworkingboat #theworkingboat. Or head on down with friends for a taster at the pub!