Meet Breakfast Chef Cameron Davidson
---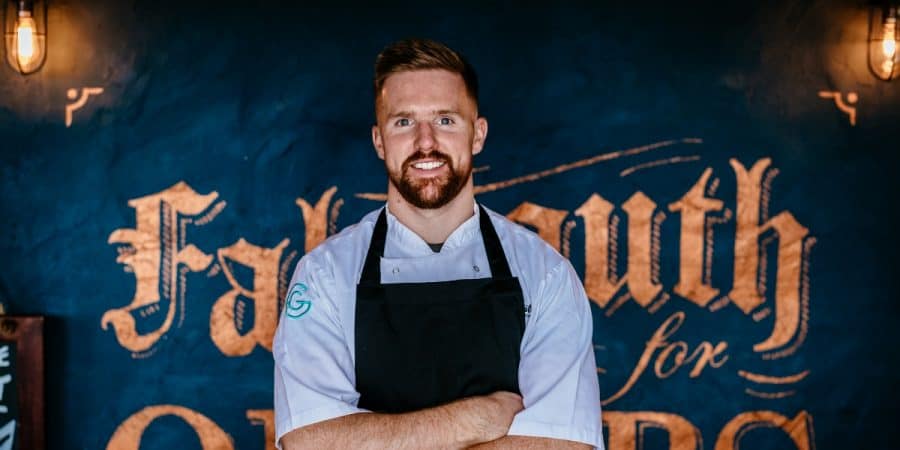 Meet Cameron Davidson, our Breakfast Chef at The Working Boat. Born in Truro, Cameron grew up in the Falmouth and Penryn area, where he has always considered this part of Cornwall home. During his college years, Cam studied watersports at Falmouth Marine School whilst working at The Greenbank (the hotel above us). The adventure type, Cam would leave for the winter season to work in the French Alps. However, he keeps getting drawn back to The Working Boat.
Working in a variety of different roles, splitting his time between front of house and the kitchen, Cam always found cooking to be the most fun. So Head Chef of The Greenbank Bobby Southworth offered Cam the opportunity to learn new skills in his kitchen and the rest is history!
---
Cameron started to lead the brunch menu in the pub, developing a good reputation to deliver hearty and delicious breakfasts over the summer period. Not only that, Cam operated the pizza ovens during our busy festival seasons, such as Falmouth Week and the International Sea Shanty Festival.
Recently, Cam has moved into the main kitchen to learn how to prepare and serve food to a two AA rosette standard.
---

---
What's your favourite part about the job at The Working Boat?
I really enjoy the variety that both roles bring. A busy Friday night in the pub where there is a great atmosphere and the shift just flows and everyone is happy – I love that. It's great getting to speak to customers from all walks of life, both locals and residents. Whereas, in the kitchen I love preparing delicious food and hearing that customers enjoyed it gives great job satisfaction.
---
What makes Falmouth so special to you?
Having been around the area all my life, I have become rather attached to it. I really enjoy watersports, so being close to the water is very convenient! It's a beautiful place with lots to do. Even if I move away I think I'll always be drawn back to it.
---
What is your favourite Cornish delicacy?
Like a lot of the team I really enjoy the craft beer scene that Cornwall has. It's become such a big thing over the last few years. My favourite has to be Harbour Ellensberg. We are so lucky that our Pub Manager Ryan is into his beers as he gets a lot of various brews into the pub, which in turn I get to try.
---

---
Some up Falmouth in five words?
Home, picturesque, relaxed, fun, and enjoyable.
---
What's your best memory from working at The Working Boat?
It's hard to pick just one! I have thoroughly enjoyed all the big events we have done like the International Sea Shanty Festival and our Working Boat Beer Festival. Being a part of the team from the start and seeing the pub grow into what it is now is very rewarding.
---
What's your go-to Sunday breakfast recipe?
Simply scrambled eggs, avocado and spinach on toast. Easy and quick to cook – and it tastes fantastic.
---
Come on down and enjoy Cameron's breakfasts every Saturday and Sunday at The Working Boat.